Not on My Watch

Not on My Watch is a digital service to engage community members to spot and report even the smallest signs of what could be a case of child sexual exploitation (CSE). It was one outcome of a design sprint run by the Ministry of Justice, Design Thinkers Academy London, Royal College of Art and STBY, as part of the What Design Can Do Global challenge to come up with relevant and feasible solutions on how to combat the sexual exploitation issue in the UK.

The concept for this service was created collaboratively during the design sprint. I designed the initial (lo-fi) prototype during the sprint which I then continued to develop into a functional, resolved prototype.

The initial outcome of the sprint can be viewed in more detail here:
https://nominorthingchallenge.whatdesigncando.com/projects/not-on-my-watch/



Design Sprint and Process



During the sprint we immersed ourselves in desk research produced by STBY and spoke to experts from several industries - from charities such as Barnardo's to Social Workers, MoJ Policy Makers, General Practitioners and Safeguards from Local Authorities, before coming up with and prototyping a digital solution.

This was an exciting opportunity to see an array of people from very different disciplines working towards one goal, and a glimpse into how things might look if more people and perspectives were integrated into policy making decisions.



One of the key insights that arose from our research into spotting signs of CSE was that most of the intellegence - and therefore a great deal of responsibilty - lies in the hands of passive observers within the community. This is particularly true of workers within the service industry, who are more likely than others to witness signs of CSE than others. However, without an awareness of how to spot these signs and the correct tools report them, this community intelligence is rarely utilised.

Our group chose to focus on empowering community members to take informed action. We came up with a range of possible solutions to this, before deciding on the one we deemed to be most viable - a service proposition directed towards small business owners involving an app for the reporting of CSE signs. Through Small Business Associations meetings, small business owners would be educated about CSE and trained to spot its signs.


I took ownership of wireframing and prototyping the app's initial UI during the sprint. This was very much rapid prototyping, as we had just one day to develop our concept into a fucntional prototype.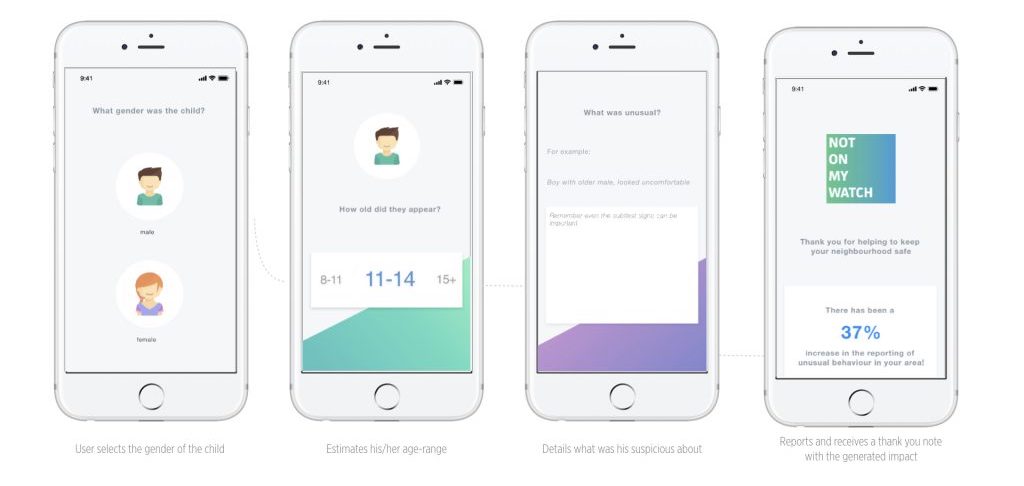 Though it was defintely effective for its purpose as a demontration prototype, the first UI that I designed was pretty unpolished. After the sprint I went back to the drawing board to refine the concept proposition both functionally and aesthetically.
Final outcome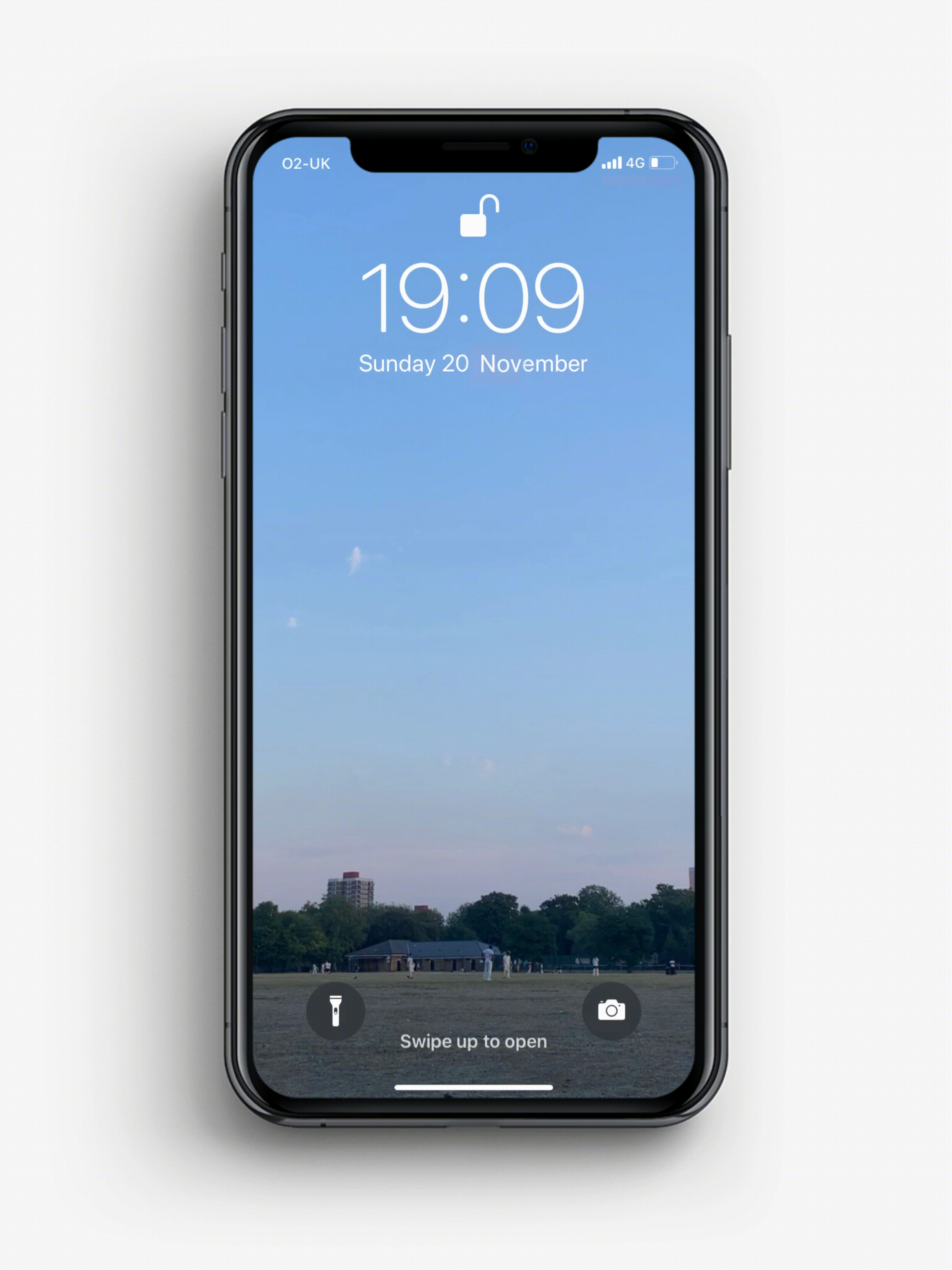 1: Starting a Report
The app can be opened on IOS using the control centre, allowing the user to make a report discretely at the time of the incident. The UI is designed to be simple and functional, with few distractions.

The user isn't required to hand over any data that could be used to identify them. Device and location data is anonymised.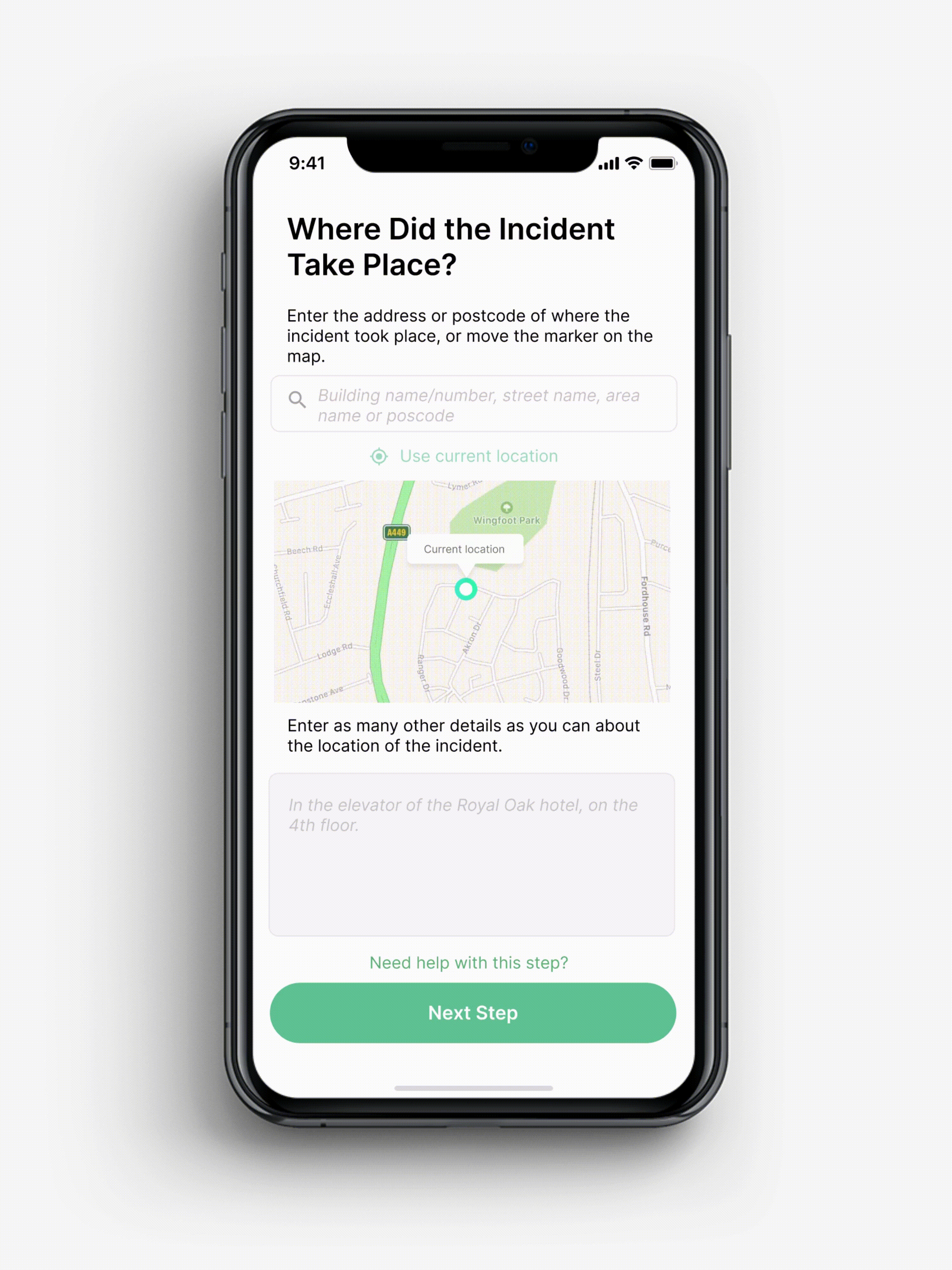 2: Entering Location of Incident
The user can enter details of incident's loction, or select 'live location' if making a report from the scene.
A more detailed account of the location can be written in the text box.
3: Describing Appearances
The user answers a series of questions regarding the physical appearances of the people people involved in the incident. Again, more inputted below.
4: Describing What Happened
The final step is to describe what took place, with emphasis on capturing as much detail as possible, including subtle signs that might otherwise be overlooked.


Team



Erlend Prendergast, Service Designer at Design Thinkers Academy
Eve Bayram, Associate Designer Trainee at the Ministry of Justice
Karen Rozenbaum, strategist and MA Service Design Student at the Royal College of Art
Kieran Sull, Policy Advisor at the Ministry of Justice
Malcolm Casimir, Service Designer at Ministry of Justice Digital