I design digital products, services and experiences.

Much of my work explores how society engages with the ethical challenges of AI.
Drop me a line if you want to chat or see my CV:
erlendprendergast@gmail.com
CounterBug - a device for digital self defence.



Over 100 million users rely on Alexa to tweak their thermostats, stream their music and schedule their appointments. Whilst there are many who view these devices simply as helping hands - there are others who consider them to be Trojan horses in the age of digital surveillance. This project is for those who use Alexa, but do so with a looming paranoia about where their data might end up, and the purpose for which it might be used.


CounterBug is a family of diruptive products intended to confuse Alexa's algorithms. It uses disinformation as a form of guerrilla data security, bombarding Alexa with false data - in turn protecting the user from the threats of state spying, vested corporate interest and potential criminal hackers.
Each accessory responds to a different form of surveillance paranoia; one to censor the user's language so that they don't get in trouble with the NSA, one to disrupt Amazon's tailored advertising algorithms, and one that chats to Alexa about virtuous topics whilst they're out the house.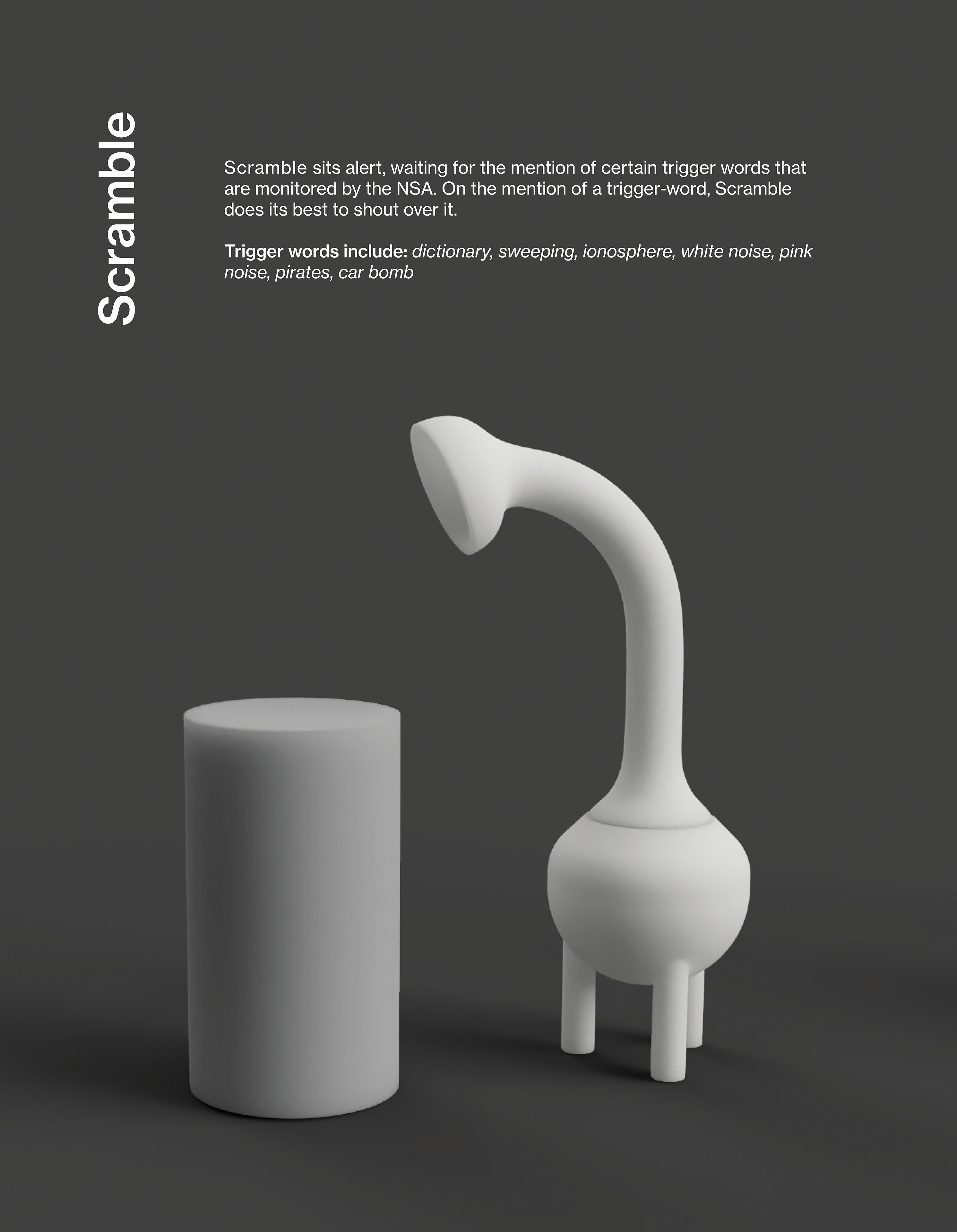 Have a look through the project's process journal:
Trialseek: big data in clinical trials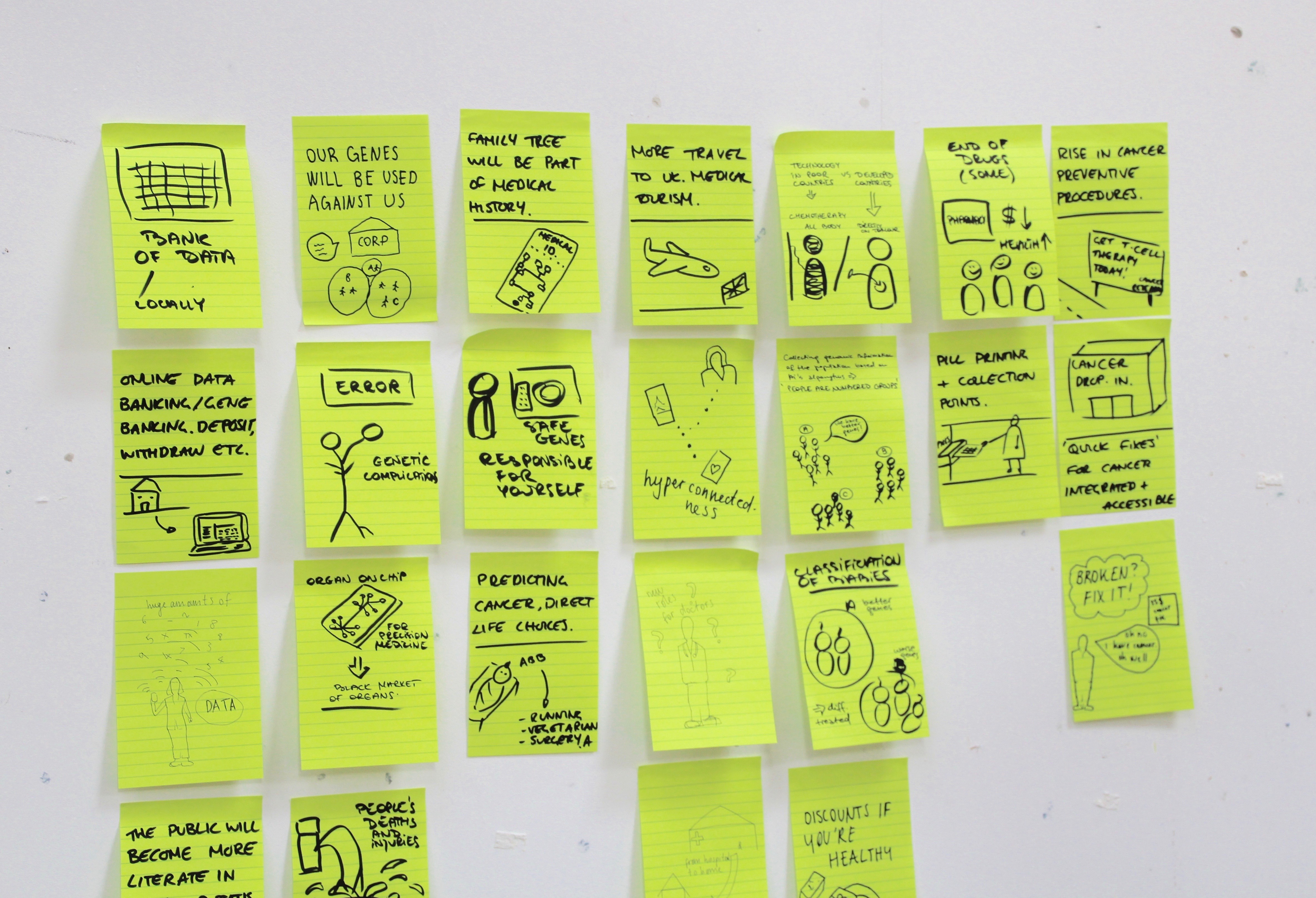 This project was completed during my studies at the Glasgow School of Art, working alongside the Institute of Cancer Sciences at Glasgow University to produce a vision of the future based on current trends relating to Precision Medicine (PM) and cancer treatment.

The focus of this project was whether data regarding a patient's lifestyle and environment, gathered by technological devices, could/should have a role to play in the delivery of precision medicine. Personal data is captured constantly and passively, becoming increasingly detailed and intimate as technological products dematerialise, making them more available to corporal integration. The shift towards wearable technologies that are able to gather data constantly regarding our physical state; for example our heart rate, body temperature and precise location - carries great opportunities for healthcare, but with this comes an array of ethical implications.
Diagram: how might AI impact clinical trials?



Data collection devices - prototypes


People respond differently to the same treatments; depending on factors such as sex, age, race, ethnicity, lifestyle, and genetic background. As clinical trails form the basis of evidence from which the safety and efficacy of new medicines and treatments can be evaluated, it is crucially important that they represent a diverse cross-section of society. However, this is not the case, and there are many barriers to diversity in trials, facing both patients and clinicians.

Trials are complex, with long lists of inclusions and exclusions for eligibility, depending largely on the patient's medical history, but also taking into account lifestyle and environment factors such as whether the patient smokes, their weight and their level of literacy. Furthermore, it is difficult for clinicians to be aware of all currently active trials and the individual stages these trials are in, at all times.




TrialSeek is a speculative service which democratises the clinical trail process by gathering and analysing an individual's lifestyle and environment data in order to match them with a suitable trial. It consists of two devices - a wearable tracker that monitors the user's corporal data, and a tracker carried in a pocket or bag which tracks data regarding the user's environment including pollution levels, spending habits, and social interactions.

Have a look through the project's process journal:



NHS Scotland Endoscopy Project

This project explored, gained insight into and proposed design opportunities concerning patient journeys before, during and after endoscopy procedures. The project began with a week of user research within the endoscopy unit in Crosshouse Hospital, where we conducted patient and staff 1:1 interviews, observed medical procudures and shadowed entire patient journeys throughout the hospital.


Some of the initial questions we seeked to answer were:
• What are the current sticking points and issues within the provision of the endoscopy unit's services and experiences?
• What are the existing good practices that may be worthy of adoption adaption and amplification?
• What is the current patient information in this arena, how and where is this disseminated and how effective is this?
• How are the current services managed, delivered and experienced – for whom and for why?
• How may we redesign these to the further mutually benefit of both the users of and staff within the NHS?
Synthesising field research
Endoscopy is both a procedure and an experience involving a wide range of interconnecting relationships and user journeys. One of our main focuses in the research stage of this project was to was to map out the varying experiences and touchpoints encountered by patients in the endoscopy ward.

The development of an experience map played a key role in the project as we were able to gather important insights and communicate them them to stakeholders. We referred back to the map throughout the project, in order to further understand what happens at each stage of the endosopy process, how the patient felt and the touchpoints they encountered.

We created two visual graphs for the map, one of which showed the emotional journey of the patient in correspondence to what they were experiencing. The other showed the relationship between the information received by the patient and the amount of agency they felt as a result of this.




Key insights + opportunities



Improving patient agency



A lack of patient agency was an important theme throughout the project, as many of the issues we observed during our time within the hospital were the result of a lack of information available to the patient about how the endoscopy unit operates. Without a clear mental of their procudure, the patient's journey thoughout the ward seemed very fractured, with unexpected preparatory work, multiple different waiting bays and interactions with a number of different staff members. As a result of this, the nurses and consultants spent a great deal of their time explaining the procedure, answering questions and reassuring anxious patients, adding more strain to their already hectic workloads.



Cancelled and missed appointments



Cancelled, missed and late appointments were one of the key issues causing friction within the Crosshouse endoscopy unit. This was partly due to the lack of option and flexibility in the current appointment system, but it was also due to patients not understanding the financial and operational implications of missing appointments.

Waiting time discrepancies

The nature of the procedures carried out in the endoscopy unit can vary a lot, making it difficult to predict waiting times. In Crosshouse Hospital, there were specific days which were busiest due to there being more consultants (and therefore appointments), which lead to larger waiting times. How could this information be made accessible to patients so they would A) know what to expect when arriving for their procedure? and B) know the reasons for any delays that might occur?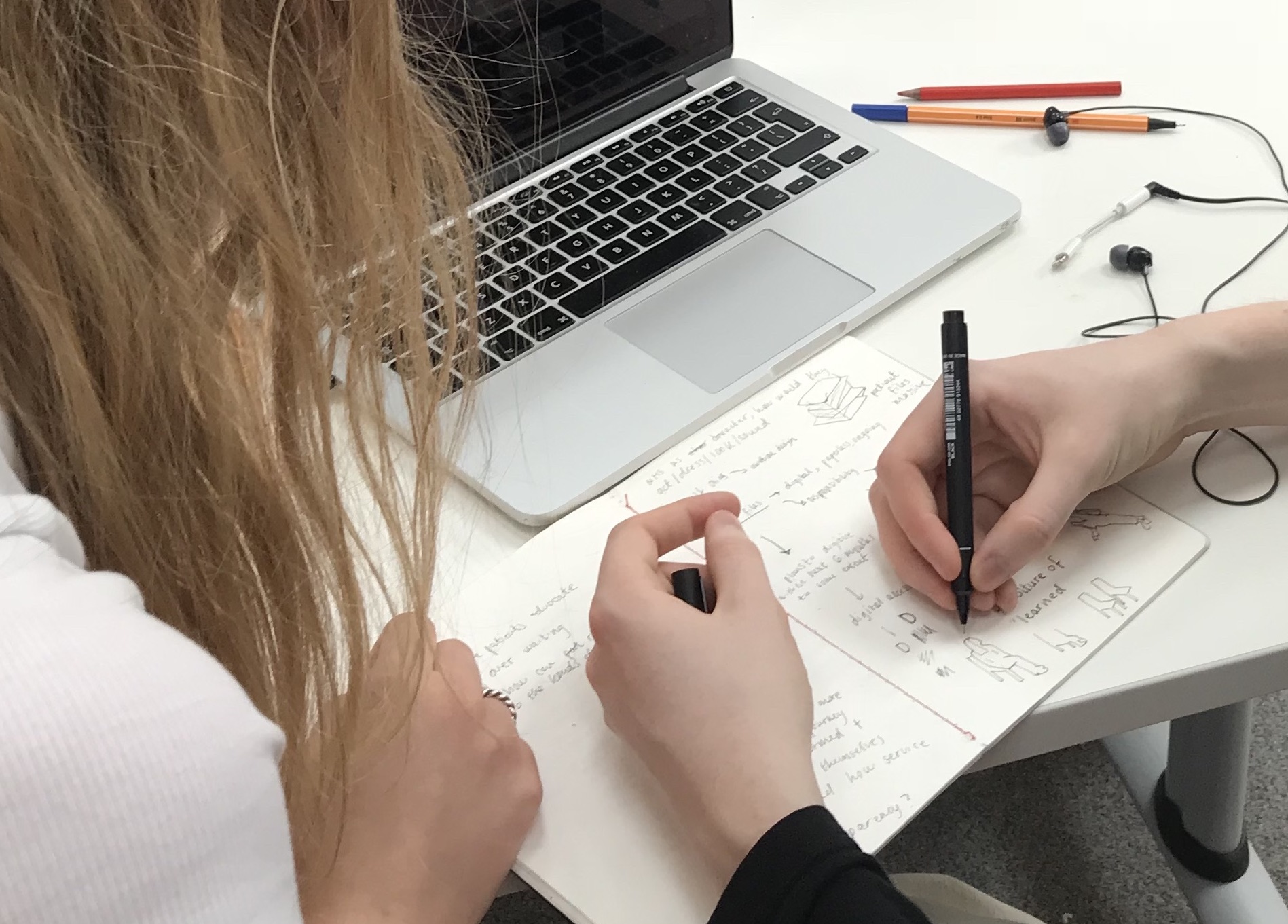 Outcomes



Digital appointment system



We prototpyed a digital appointment system that could also act as a platform to could give patients a mental model of their journey throughout the endoscopy unit. This system would give patients greater choice and flexibility in choosing their appointments and allow them to change/cancel appointments online, alongside data visualisations displaying average waiting times. The website has a section which explains how waiting times arise, and how they can be unpredictable due to the nature of endoscopy procedures. This would help to combat missed appointments, and give patients the tools to contextualise the pressures experienced by staff in the ward. As people are used to booking appointments using a number of different systems for other services outside healthcare, it is not unfeasible to imagine such a system for the NHS.






EndpoPass + onboarding



Flight boarding passes contain much of the key information required by the passenger throughout their journey, including the belongings they need take with them. Carrying this physical artefact throughout the journey also gives the passenger a sense of responsibility for their own journey - something which patient's don't experience within the NHS, where patients hand over responsibilty and agency to the staff involved in their treatment.

This element of the flight on-boarding process would be easily transferrable to the endoscopy journey, and would help the patient to build a mental model before their procedure. The EndoPass would be created by the patient when they fill out their consent form online. This would remove the hassle of signing consent forms within the ward, which takes time and resources. Completing the consent form at home would also give patients more time to think and check over the questions with relatives. Currently patients are expected to remember aspects of their own medical history when filling out the consent form with a nurse; the pressure of this can lead to confusion and means that patients enter their procedure with uncertainties.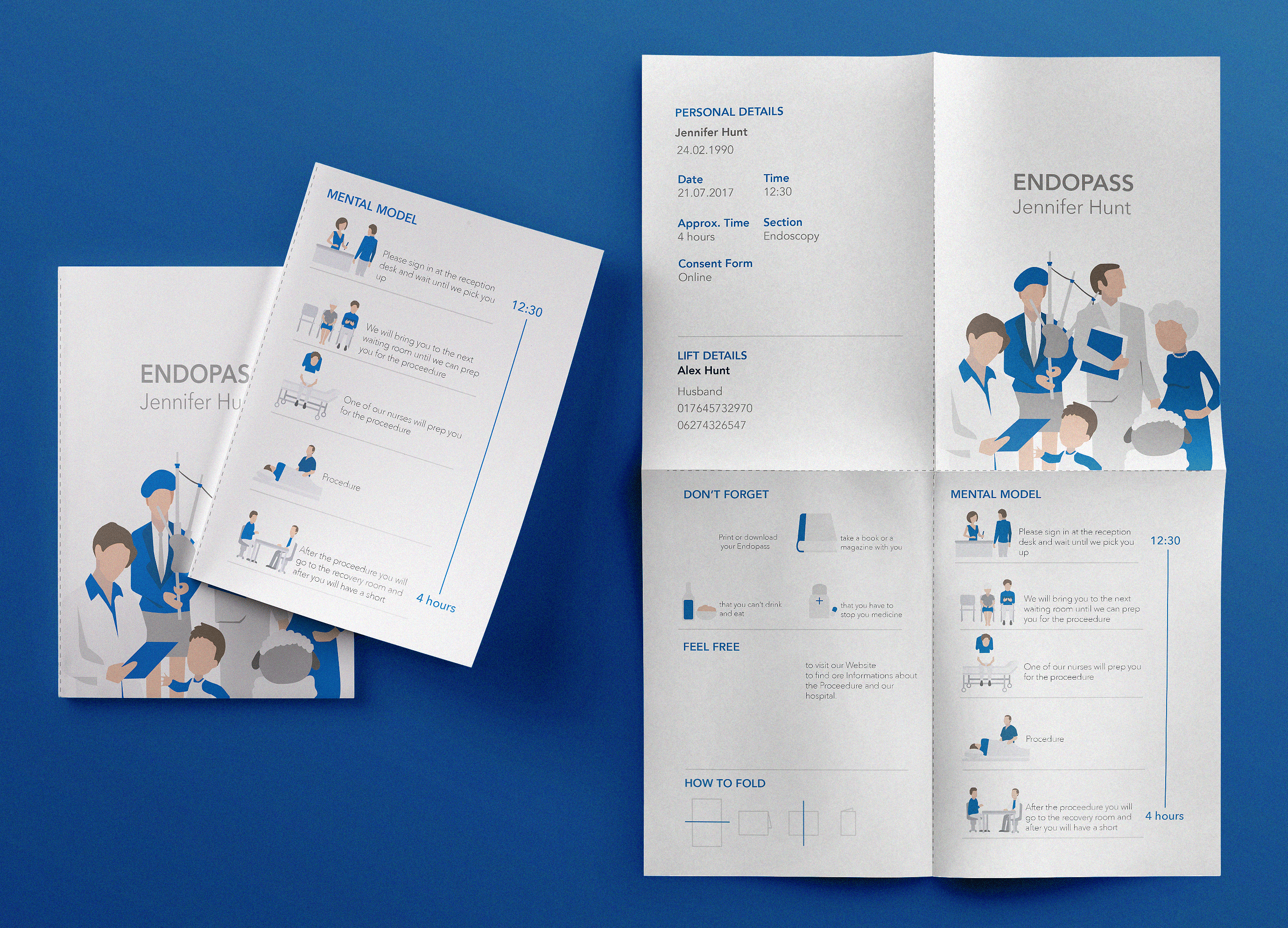 Object Sympathy

Experiments using Cinema 4D.